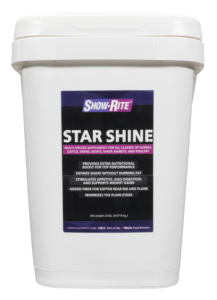 NUTRIENT ANALYSIS
| | |
| --- | --- |
| Crude Protein, min | 26.0% |
| Lysine, min | 1.0% |
| Methionine, min | 0.4% |
| Crude Fat, min | 3.0% |
| Crude Fiber, max | 12.0% |
| Acid Detergent Fiber, max | 15.0% |
| Neutral Detergent Fiber, max | 25.0% |
| Calcium, min | 0.8% |
| Calcium, max | 1.3% |
| Phosphorus, min | 0.7% |
| Magnesium, min | 0.5% |
| Selenium, min | 0.7 ppm |
| Zinic, min | 324 ppm |
| Vitamin A, min | 25,000 IU/lb. |
| Vitamin D, min | 8,500 IU/lb. |
| Vitamin E, min | 35 IU/lb. |
ABOUT THE PRODUCT
Show-Rite Star Shine is a highly palatable, 26% protein supplement pellet, designed for animals of all life stages to improve performance and body condition.  Formulated with high-quality proteins and key nutrients to stimulate appetite, enhance digestion, and support weight gain while defining the shape.
•Provides Nutritional Support for Optimal Performance and Condition• Adds shape without burning fat
• Added fiber for softer rear rib and flank
• Eliminates the plain stage
• Stimulates appetite, improves digestion, and increases weight gains
• Highly Palatable
• No added copper, safe for copper-sensitive species
INGREDIENT LIST 
Refer to the product label for a complete list of ingredients.
FEEDING DIRECTIONS
Show-Rite Star Shine 26% protein supplement pellet can be blended with feed rations for group feeding or can be top-dressed for individually-fed animals. Usage levels depend upon class and age of the animal being fed. Show-Rite Star Shine 26% protein supplement pellet is not designed to be a complete feed. See feeding chart for suggested daily usage. Use caution so as not to over-feed.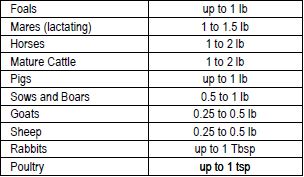 Product Number
Star Shine 20 – lb. pail #67226 or 50 – lb. Bag #5403