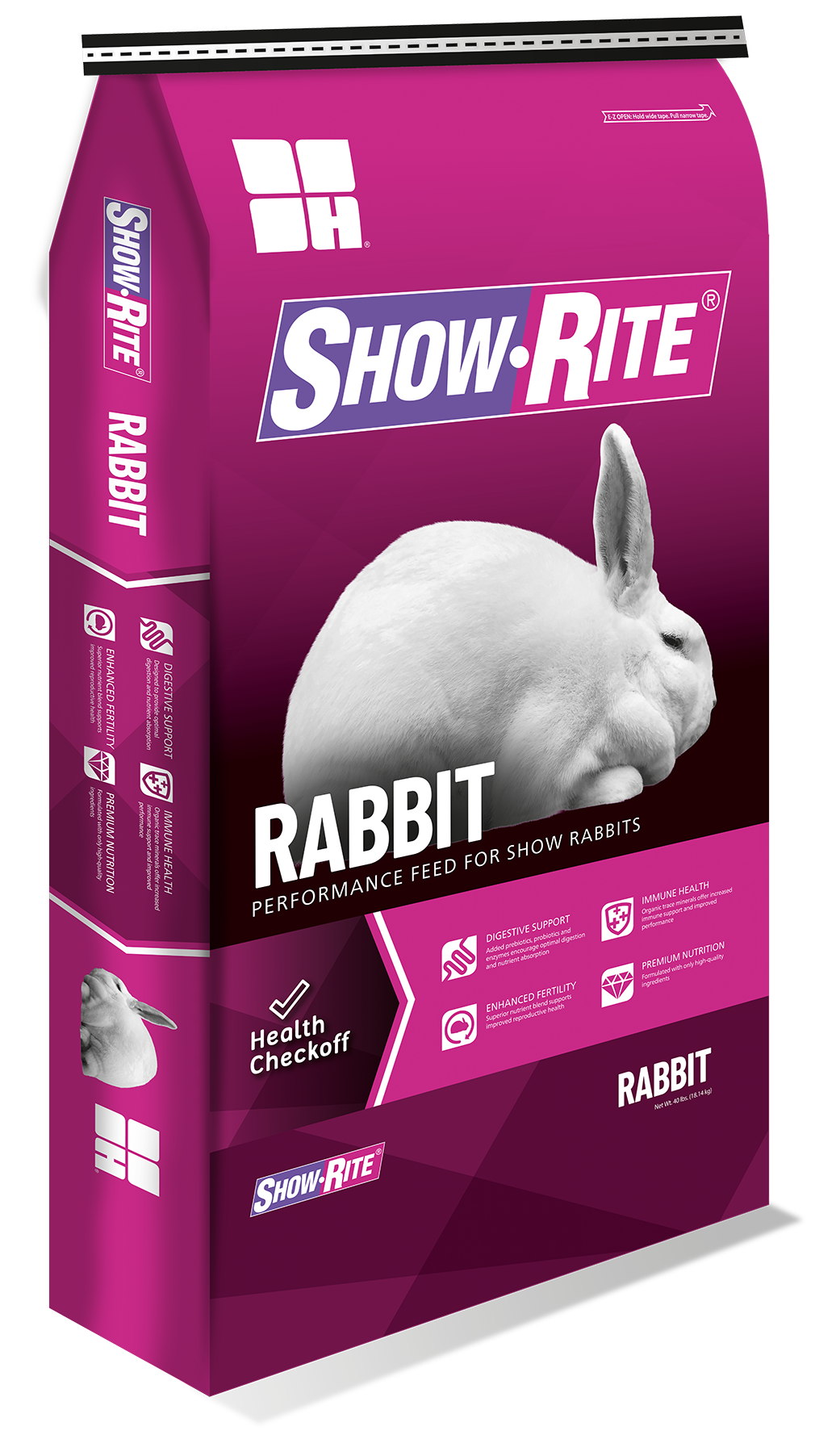 ABOUT THE PRODUCT
Premium Rabbit Pellets are complete, balanced mini-pellets formulated especially for the large show rabbit, designed to provide optimal muscle growth, superior fur development and excellent breeding performance. Both have been tested and proven in a top rabbitry and are formulated to incorporate the newest ingredient technology available.
NUTRIENT ANALYSIS
| | |
| --- | --- |
| Crude Protein, min | 17.0% |
| Crude Fat, min | 3.0% |
| Crude Fiber | 16.0 – 18.0% |
| Calcium | 0.6 – 1.1% |
| Salt | 0.4 -0.9% |
| Phosphorus, min | 0.6% |
| Vitamin A, min | 2,750 IU/lb |
INGREDIENT LIST 
Refer to the product tag for a complete list of ingredients.
FEEDING DIRECTIONS
Feed Show-Rite Premium Rabbit Pellets as the sole ration to growing and mature large breed show rabbits. Provide fresh, clean water at all times. Nutripreme® may be top-dressed over the ration. Nutripreme pellets contain a coat conditioner that will help to improve coat thickness and sheen and add the extra "bloom" desired in animals being raised for show.
Provide plenty of fresh, clean water at all times.
Never feed any feedstuffs that are moldy, musty or suspect in any way.
Show-Rite Rabbit Pellets are a complete feed. Additional hay or other feedstuffs are not required and may dilute the nutrient levels, resulting in depressed performance.
Rabbits should be changed slowly from one feed program to another over a five-to-seven-day period.
Show-Rite Premium Rabbit Pellets are formulated specifically for rabbits and should not be fed to other species.
Product Number
#6884 – Show-Rite Premium Rabbit Pellets 20-lb. bag or #6885 40lb. Bag