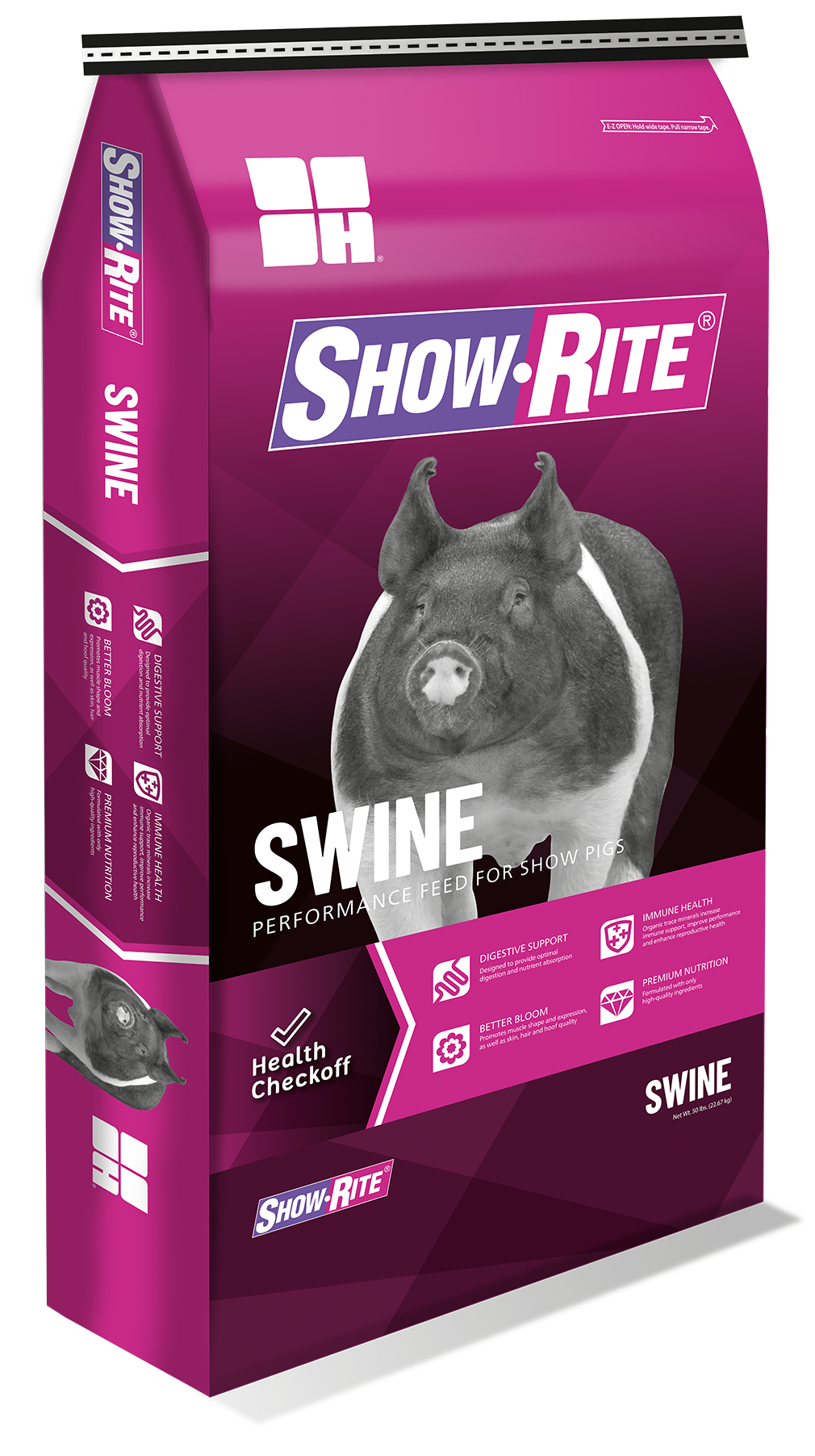 ABOUT THE PRODUCT
Pig Starter is the most highly used and talked-about starter on the market. Whether you are getting your show pigs ready for sale or just want them to bloom and grow, Pig Starter works. Designed for show pigs 21 days of age and older.
BENEFITS
-Highly digestible show swine starter
-Enhances bloom in show pigs
-Optimal feed for pigs going to sale
NUTRIENT ANALYSIS
| | |
| --- | --- |
| Crude Protein, min | 21.0% |
| Crude Fat, min | 7.0% |
| Crude Fiber, max | 3.5% |
| Calcium | 0.6 – 1.1% |
| Salt | 0.3 – 0.8% |
| Lysine, min | 1.5% |
| Phosphorus, min | 0.7% |
| Zinc, min | 3,000 ppm |
| Selinium, min | 0.3 ppm |
| *Phytase, min | 907 FYT/lb. |
*One unit of phytase activity (FYT) is defined as the quantity that enzyme which liberates 1 micromol of inorganic phosphorus per minute. Environmental factors such as feed pH and moisture and processing methods like pelleting or extrusion may affect enzyme activity.
INGREDIENT LIST 
Refer to the product tag for a complete list of ingredients.
FEEDING DIRECTIONS
Feed as a sole ration to starting pigs from 26 to 40 days of age at the rate of 0.5 pound per 10 pounds of body weight. This will provide 10 milligrams chlortetracycline per pound of body weight per day. A source of water is also necessary.
WARNING: Withdraw medicated feed 2 days before slaughter.
CAUTION: Do not feed to animals other than swine. Use as the only source of tiamulin and chlortetracycline. Swine being treated tiamulin should not have access to feeds containing polyether ionophores (e.g., Monensin, Lasalocid, Narasin, Salinomycin and Semduramicin) as adverse reactions may occur. If signs of toxicity occur, discontinue use of medicated feeds.
SPECIAL CONSIDERATION: Protect medicated feeds from excessive temperatures. Do not store at warm temperatures, 104oF (40oC), for more than 7 days.
LIMITATIONS FOR USE: Feed continuously as sole ration for 14 days. Feed approximately 400 g/ton chlortetracycline, varying with bodyweight and feed consumption, to provide 10 mg/lb of bodyweight per day.
Product Number
#50MM Show-Rite Pig Starter 50-lb. Bag