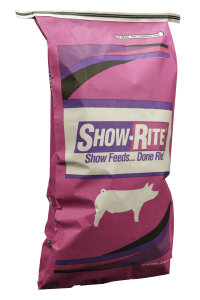 ABOUT THE PRODUCT
Rite Fill can be used in place of steam rolled oats at the rate of 1-2 pounds per day to encourage consumption for finicky eaters and provide a fuller, smoother look. Rite Fill may also be used as a sole ration on show day to add body & fill.
NUTRIENT ANALYSIS
Crude Protein, min                               Calcium                                     Lysine, min                           Crude Fat, min                        Crude Fiber, max
10.8%                                                       0.4 – 0.9%                                   1.2%                                        11.0%                                         7.0%
Phosphorus, min                                  Salt                                            Selenium, min                          Zinc, min
0.5%                                                         0.3 – 0.8%                                0.30 ppm                                   120 ppm
INGREDIENT LIST 
Refer to the product tag for a complete list of ingredients.
FEEDING DIRECTIONS
Add 0.5 to 2.0 pounds of Rite Fill with your daily ration. For 150 pound pigs, add 0.5 pound to their daily ration to increase consumption and add body depth. When utilizing Rite Fill on market-weight swine, simply add 1.0 to 2.0 pounds to add that extra soft look and body depth. Rite Fill is very palatable and can be used as a sole ration on show day to get the correct fill, without the extra weight gain. Always supply a source of fresh, clean water.
WARNING: This product, which contains added copper, should not be fed to sheep or related species that have a low tolerance to copper.  This product has been formulated specifically for swine and is not intended for other species.
Product Number
#46060 Show-Rite Rite Fill 50-lb. Bag