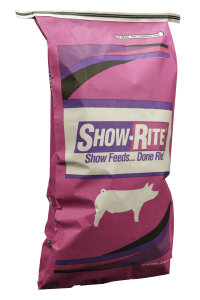 ABOUT THE PRODUCT
Show-Rite® Depth 'N' Dimension is carefully formulated for optimal growth and performance. Show-Rite Depth 'N' Dimension is a meal form and incorporates the latest nutritional knowledge with good animal husbandry practices for maximum performance.
NUTRIENT ANALYSIS
Crude Protein, min                               Calcium                                     Lysine, min                           Crude Fat, min                        Crude Fiber, max
24.0%                                                       0.7 – 1.2%                                   1.9%                                        13.0%                                         14.0%
Phosphorus, min                                  Salt                                            Selenium, min                          Zinc, min
0.70%                                                      0.2 – 0.7%                                0.30 ppm                                   1,000 ppm
INGREDIENT LIST 
Refer to the product tag for a complete list of ingredients.
FEEDING DIRECTIONS
Replace 1-2 pounds of normal feed with Show-Rite Depth 'N' Dimension daily for at least 25 days prior to show. A clean, fresh source of drinking water is also necessary.
WARNING: This product, which contains added copper, should not be fed to sheep or related species that have a low tolerance to copper.  This product has been formulated specifically for swine and is not intended for other species.
Product Number
#30783 Show-Rite Depth 'N' Dimension 50-lb. Bag